In Vitro Antibody Assays using Therapeutic Antibodies
Selection of the best cellular model for your study among:
Various hematological cancer cell lines (AML, DLBCL, MM, MCL…)
Unique proprietary panel of multiple myeloma cell lines (n=25)
Primary samples from patients with hematological malignancies (Multiple Myeloma, Non-Hodgkin Lymphoma, Acute and Chronic Leukemia…)
Access to general information, genomic and clinical data from samples (age, gender, subtypes, gene expression profile, mutations, FISH, epigenetic data, treatment and response…)
Access to longitudinal samples at diagnosis, end of treatment and relapses.
In Vitro assays to investigate the direct and indirect cell-mediated cytotoxicity
Cell viability assays, Drug combinations
ADCC assays using PBMC or NK cells from patients or healthy donor
Immunophenotyping and Monitoring of B, T and NK cells subtypes using multiparameter flow cytometry
Hematological cancer cell lines
Primary cells from patients with hematologic malignancies
Multiparameter flow cytometry (13 colors)
Cell viability assays
Drug combinaisons using conventional of target treatments
In vitro assessment of antibodies autologous cytotoxicity
In vitro assessment of antibodies heterologous cytotoxicity
Customized services on request
A Final Report
Raw and Treated data
We propose a creating comprehensive portrait of the tumor cells and their microenvironment using RNA and DNA sequencing data from patients with various hematological cancers. Also, we propose a development of a cloud-based analytic platform to analyse and visualize your immunogenomic data.
Transcriptomic characterization of immune activities within tumor micro-environment
Tumor Immunogenicity
Tumor inflammatory signature
Anti-tumor immune activities
Inhibitory Immune Signaling
Immune infiltration (deconvolution of heterogeneous samples)
Identification of relevant mutations and Tumor Mutational Burden (TMB)
Mutated oncogenic pathways
Mutated genes and durg interaction
Estimation of Tumor Mutational load
TCR profiling using NGS
Identification of T cell clones by analyzing CDR3 region
Visualization of the number of clones and their proportion
Calculation of Shannon entropy (Clonal diversity)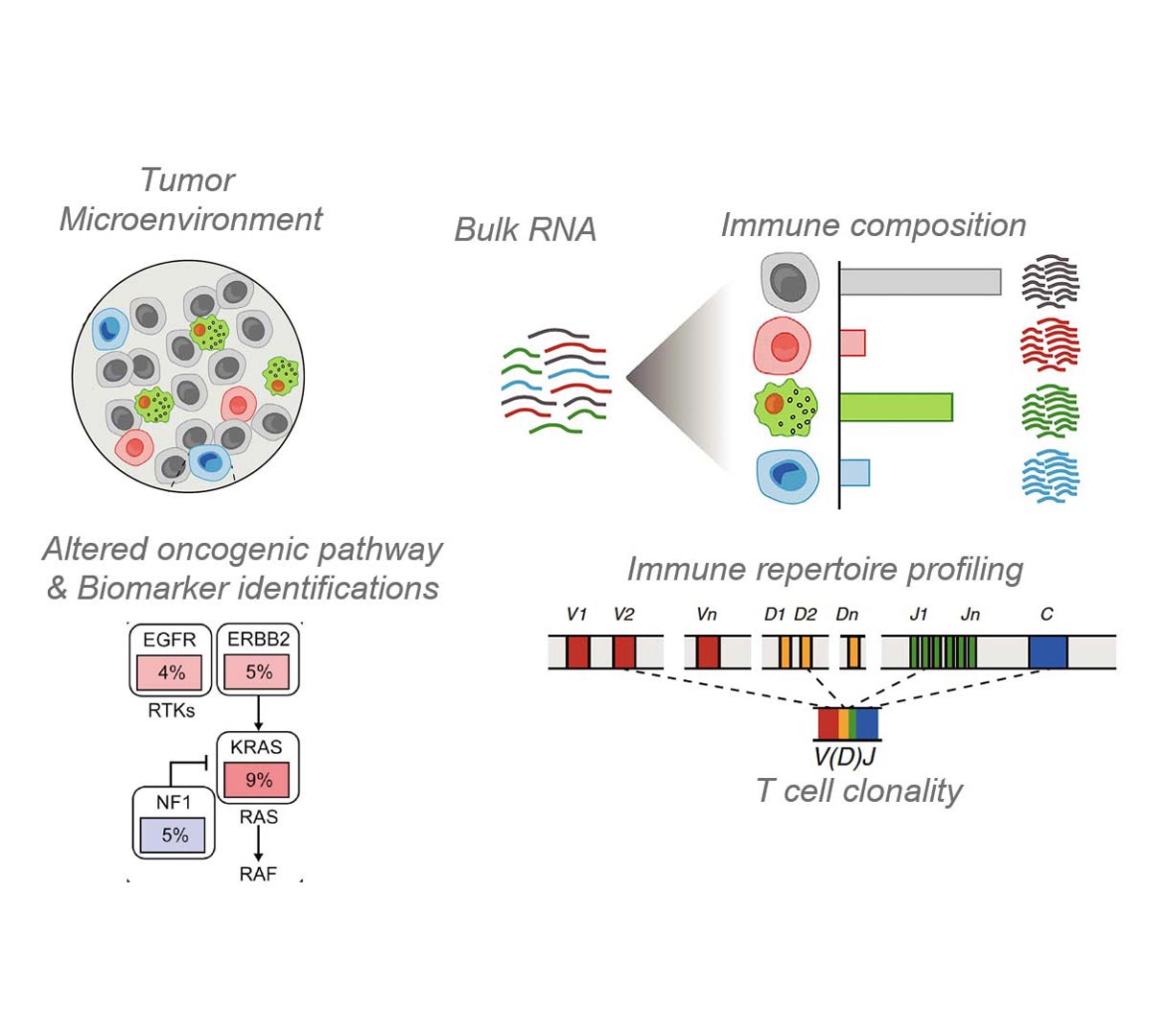 Access to large cohorts of RNAseq data from primary samples already sequenced (MM, LLC, DLBCLs, DLBCLs, FL, MCL, ZML)
Access to WESseq data of primary samples already sequenced (MM, LLC, DLBCLs, DLBCLs, FL, MCL, ZML)
Access to DNA and RNA of a large panel of primary samples (longitudinal samples, MM, LLC, DLBCLs, DLBCLs, FL, MCL, ZML, AML, ALL…)
Possibilities to perform sequencing of your samples or after treatment studies
RNA/DNA extraction
RNAseq, WES, target sequencing
Immune composition
Immune activities
TCR profiling
HLA typing
Biomarkers identification
Customized services
A final report
Raw and aligned data
A cloud-based analytic platform to analyze and visualize the immunogenomic data